10 Reasons You Should Adopt A Basset Hound
Droopy eyes, floppy ears, and a drooly mouth. No, it's not your Great-Uncle Phil when he wakes up in the morning, but even better—basset hounds!
Tomorrow is National Dog Day, so we're here to celebrate by profiling the Carolina Basset Hound Rescue Inc. Are they in your Givolio?
CBHR's mission is to rescue, rehabilitate, and rehome unwanted basset hounds in North and South Carolina. Founded in 1993, the organization is entirely volunteer-staffed and has grown from a small fledgling group to a federally recognized nonprofit organization. Over the course of 20 years CBHR has rescued, rehabilitated, and rehomed over 2000 basset hounds. Their program focuses on four main areas: fostering, adoption, donations, and events.
If you're looking for a new furry friend, here are 10 reasons why you should bring a drooly little basset hound home with you today!
1. The Floppy Ears
Just look at those things! You may need to clean their ears after meals because they will fall in their food bowls, but it's totally worth it.
2. ALL of The Wrinkly Skin
Slow motion never looked so good. They have folds upon folds of wrinkled skin that you can't help but chuckle at whenever they run or shake off.
3. They're Very Intelligent
Of course they have their moments… But basset hounds are ranked in the top seven most intelligent dogs breeds, according to PetCareRX. They can be a little difficult to train, which can make people think that they are unintelligent, but that's not the case at all. They were bred to think for themselves, so if you find yourself repeatedly commanding them to sit without compliance, it may be because they simply see no need to sit.
4. They're Generally Good with People and Other Pets
Easygoing and friendly, basset hounds are a classic family dog, and because they were originally bred to hunt in packs, they naturally tend to be good with dogs and other animals.
5. You Can Play Peek-a-boo With Them
Handle them with caution of course, but those ears are a perfect (and cute) way to bond with your pup.
6. They're Super Sniffers
They have a keen sense of smell, so they're great companions if you like hunting small game. While bassets are not used for hunting nearly as much now, you may be able to train your pet to sniff out the television remote on command. Maybe.
7. They're Kind of Lazy
Basset hounds are easy dogs to take care of because they're not as energetic as most breeds. They're not highly active dogs who need to go on long runs to get their energy out, but they do need to go on a daily walk to keep them healthy.
8. Their Facial Expressions Are Priceless
Sure, they may look like they're moping about 87% of the time, but they definitely have a few other faces to share. Sometimes they may throw some side-eye or look at you with the most intense judgement you'll ever encounter, but every once in awhile, you'll catch a little smile. It's probably when you have food though.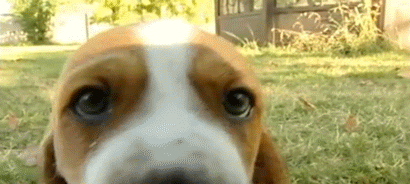 9. They Know How To Shake Off The Stress
As we said before, bassets are the ultimate family dog and having a pet in general can help relieve stress and achieve your goals. Even more of a reason to adopt from the CBHR today!
10. The Givolio Team Has a Soft Spot for Basset Hounds
Okay, so this may not be a valid reason to get a basset, but at Givolio, we will always advocate for them. On the left is Meatloaf, who visits our office frequently. On the right is Beauregard, or Beau for short, who belongs to another team member of ours.
Here at Givolio, we love our Basset Hounds. Full of love—and drool—our fur babies mean everything to us! They're ridiculously cute, very loving, and always know how to make you smile.
Think a basset may be a good fit for your family? Visit the Carolina Basset Hound Rescue page to see all the animals who are available for adoption.
Can't take a furry friend home, but still want to help? Just add the CBHR to your Givolio and donate today! You can give one time or set up recurring donations!
Happy National Dog Day, everyone!